I can't wait to see a baby girl in this outfit that I crocheted for a friend's granddaughter!
But until January when the little one is due to make an entry into this world I just have this pic in my granddaughter's 18 inch doll. LOL
It started with a pic of these booties on FaceBook.
And what happens quite often is you can find a picture plastered all over the internet without a pattern to be found.
and when I finished the booties
they cried out for a dress to wear with them so I found a pattern on angelfire.com called Newborn Angel Gown Set.
I searched and searched but this one is the one I kept coming back to and I decided this baby girl to be born in January would look absolutely beautiful in this. And it just seemed to match with the booties I had made and the bonnet I had in mind to go with the booties. I shortened it to be able to show off the booties. And did a some minor tweaking here and there.
And I had made a bonnet a couple years ago from a pattern I purchased but when I Googled it I came across this, "
The item "Daisy Bonnet (pattern)" by GlowsCrochetCreation cannot be viewed because it has expired."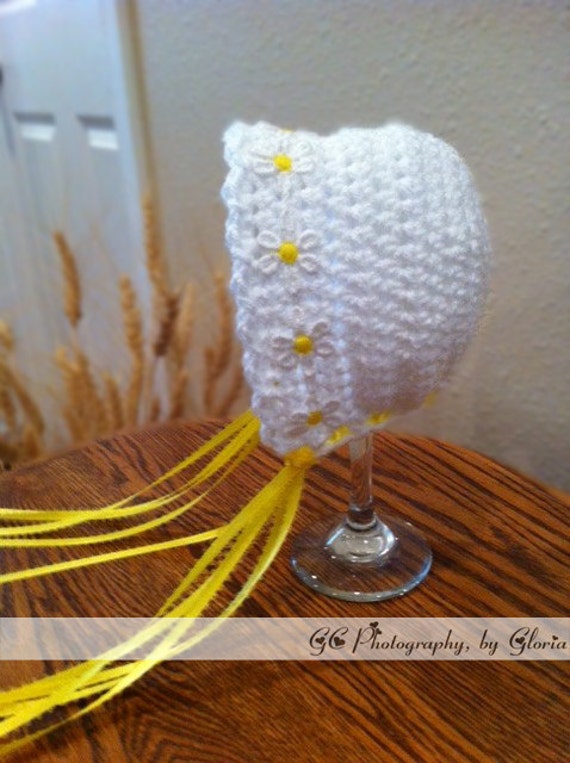 I have made several of these and was always happy with them. I would share my copy of the pattern but it is copyrighted, even the pic but I think since I am trying to give credit to the original pattern maker and then showing a pic of what I made I hope I am doing nothing unlawful. Here is one that I made awhile back.
and another one
Here is a close up of this most recent one that I made to match the booties and dress.
To make the "rosebuds" on the booties and bonnet I just did a row of sc in the bonnet, ch 1 turn and do this across row of sc for rosebuds *2 sc, (1 sc, 2 dc, 1 sc) in next sc, drop loop from hook and put in first sc of last 4 st, grab loop and pull through sc and pull tight, ch 1 and continue across row of sc*. For the booties I used a single strand but for the bonnet I used a double strand of pink to make them stick out more.
I totally enjoy projects like these! But I do find myself crocheting, pulling lots of stitches out and crocheting again.
PS: I found where I first saw the pattern for the bonnet on FB but it doesn't look like she is very active anymore on FB.
Here is the info that I found there to order the pattern and by the looks of it I may even have been lucky enough to win one of her patterns! Lucky me!
"Im now taking presale orders for $3.99 please email me at
glowscreations49@gmail.com
for your order."